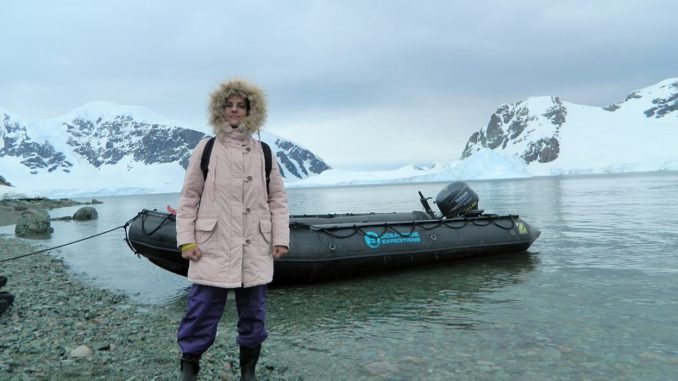 Blessed day. My first landing in Antarctica continent. Could not wait any more, not even for departure announcement. Got ready before scheduled time, with my rubber boots and safety vest. Swapped my card signalling that I have left ship for zodiac excursion. Disinfected my boots so that no bacteria enters Antarctica and waited for zodiac boarding.
Landing site was Danco island in Errera Channel. In few minutes my zodiac arrived at site. Super excited. Heart pounding. But that did not mean I could just leap out of zodiac. There was a process to be followed else zodiac will be off balance and that will put everything in jeopardy. My turn and in reverse position swinging my legs, holding one hand of crew member, I got off my zodiac.
A long hike was planned till highest peak of island. And it was all glacial. Everyone was provided pair of snowshoes which were to be strapped on polar boots. I fastened mine with the help of crew member. Strapping had to be accurate otherwise walk would be difficult and might even sprain my feet.
I stood at ground, took few moments to let the feel of being in Antarctica sink in me and let my heartbeat get to normal. Then looked around. Stunning panorama. I was speechless. One side blue waters and other side beautiful island covered deep in snow. In between exposed rocks fully occupied by Penguins.
As I set my eyes on penguins. That was the moment of emotional pour. Since long had been dreaming of being with Antarctic Penguins and here I was amongst them.
Danco island is home to hundreds of breeding penguins who occupy slopes of the island. They were instant friends with me. I stood near them. I sat there to see them to my heart's content. They sat alongside me. I just kept looking, quietly, did not even click my camera as I did not want any distraction between us. I came out of my oblivion when I heard call to follow crew member for hike. No compulsion on going till highest and farthest point. It was individual choice. But I was delighted to know that I will have the fun of long hike. Hiking trail was well indicated by red flags.
View from top was mesmerizing. My ship looked like a beautiful toy and zodiac a tiny dot against gigantic mountain in backdrop. Spend lot of time on highest peak appreciating and capturing nature. Then slowly and quietly moved towards Penguins and remained glued to them till again heard a call to be back.
Before boarding zodiac everyone had to take off snowshoes else would pierce zodiac which is an inflatable boat made of solid tubes.
Now the time for zodiac cruising which left me amazed.
MY ANTARCTIC ODYSSEY continues ….