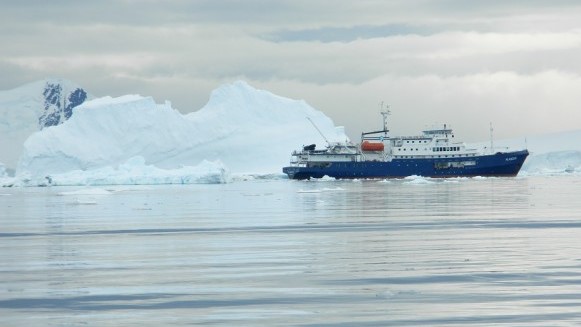 Announcement on board. Come on deck to spot whales. Everybody rushed to open decks with camera in hand. Plenty of whales had surrounded my ship. Incessant clicking mania. But whales were on teasing spree. They would surface and in a blink would disappear. Huge whales with young ones. Here there and everywhere. Everyone on decks got crazy, ran from one side to other, to have the best view. This hide and seek game the whales played, lasted for long time. Though it was stormy and chilly weather out. Drake sea was on swell. Rocking effect was still there but no one had cared.
Then there were bird spotting, dolphin spotting. And more whale spotting, later.
Dreaded Drake Passage had bestowed its kindness on my expedition. Few initial hours were very hard but gradually rocking got smoother, there was more of swinging effect now. All the trepidation was gone. Crew was cheerful and people were happy. Sea sickness still affected many people. But I was in other category who were perfectly fine. I took precautionary medicine, just once.
Among all explorers on board, there was a group of thirty students along with faculties from USA. They were conducting studies on ecotourism, Antarctic birds and environmental issues.
Expert Lectures delivered on board covered diverse subjects on Antarctica. Right from wildlife in Antarctica to exploratory activities in frozen continent. Very informative, indeed.
As per IAATO guidelines, there was mandatory vacuuming process to be undertaken. Everyone one on board had to vacuum personal outfits intended to be born during all landings in Antarctica. Purpose behind that was to prevent any non native species entering Antarctica.
Day before first landing, expedition rubber boots were issued to all. To keep feet dry and warm, these specialized boots with Neoprene lining are perfect for polar landings. I had my apprehensions about boots, earlier, but as I tried on my feet, I found these very comfortable.
Evening before 1st landing, briefing session on few routines to be followed during all forthcoming landings. Like disinfecting rubber boots while leaving the ship and entering the ship. So that either way no infection is carried. And wearing safety vest while on zodiac. Also not to forget swapping card before and after each zodiac excursion. This was meant for headcount.
Everything was in place for me. Enjoyed till late in lounge. Large variety of hot drinks such as tea, coffee, milk, hot chocolate, soups were available 24 hrs. With lot of cookies. These items were complementary. I cherished hot chocolate with cookies. Others relished alcoholic drinks at bar. Everybody was having fun time.
Next day's zodiac excursion time was scheduled at 9 am. I was excited about 1st landing that was going to happen in next few hours. Strong icy winds outside still I preferred to spend some time on deck with my camera, along.
Past midnight. And the reward. I noticed first iceberg. I shrieked with joy.
Now my ship was calmly sailing through Beagle channel. But the calmness was to be battered soon..
MY ANTARCTICA ODYSSEY continues ….