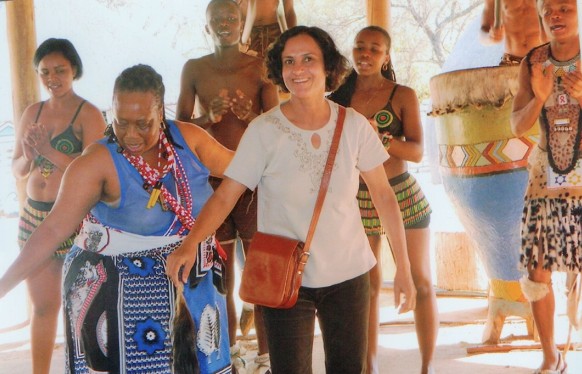 Heart melting notes and foot tapping music. Telling stories through singing and dancing has been deep rooted in South African culture. When I traveled in interiors of South Africa, I found music an integral part of natives' lives. I saw women crooning and dancing while drying clothes. I was very delighted watching people enjoying each moment of the day to the fullest, as if there was no tomorrow.
I had read lot about South African folk traditions. I decided to visit one village to experience local culture and be a part of their lives, may be for a day. After discussion with my guide I finalized my visit to Motseng Cultural Village in Sun City.
Motseng Cultural village is a living example of South Africa's  cultural heritage, offering cultural insights of prominent eight ethnic groups. As I approached village entrance, I was taken over by sounds of kwaito that had created an aura of mystic in the village.  Kwaito is a unique South African genre of music, a mix of contemporary music, jazz and local influences. Lyrics are weaved in indigenous languages like praise poetry and divinity.
While exploring village, I observed artisans creating beautiful crafts, saw their techniques and tried on some.  Then went on to visit ethnic shacks belonging to different tribes, dwelling in these. One tribal guide accompanied me to each hut. I entered all, communicated with occupants and got clicked with them.
Afternoon time was for folk show. I was welcomed by an offering of drink, a traditional beer made of maize by tribals, in their kitchen in village. Which I visited after the show. Folk show was a complete package of entertainment and learning. Different groups showcased their art forms. Performances mainly comprised of love forms, warrior forms and divine ones. Melodious singing and rhythmic dancing, I just jumped into the act. Though I am not a dancer per se, but drum beats put me in a trance and I danced to my heart's content.
Show ended with a rice pudding, a gift of love one pearl bracelet  and warm greetings by all performers.
Though folk dance show was very expensive as I had booked it exclusive, but that was very rewarding and full worth of money paid.
Sing, dance and make merry, I did all in South Africa. Truly a fulfilling experience for me.