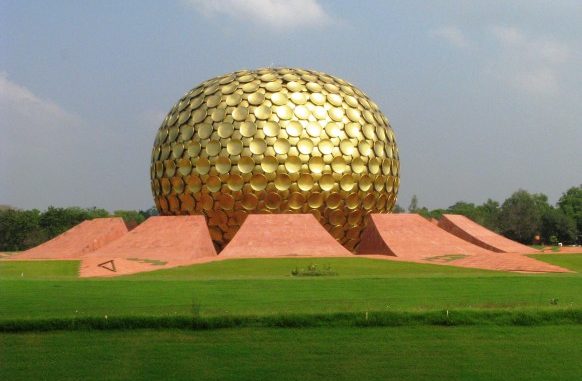 My spiritual journey to Auroville, in my home country India, culminated at Matrimandir. Matrimandir means temple of the Mother. As I paced towards  Matrimandir, I felt like I have entered a green oasis. Twelve sculpted gardens created on barren land, in fact whole Auroville township has been built on the barren land.
Gardens have inherent spiritual value and considered as divine answer to the aspiration for perfection. Thus twelve gardens are named: Existence, Consciousness, Bliss, Light, Life, Power,Wealth, Utility, Progress, Youth, Harmony and Perfection. Above that all these gardens have trees, plants, flowers and shrubs as per the theme of that garden. These complement and enhance the spiritual feel of the garden.
In midst of gardens emerges imposing Matrimandir, a gold plated sphere. To me, that round illuminating edifice denoted the origin of consciousness. A perfect blend of supreme beauty and supreme power. Looking at the splendour of temple exterior, I was as if in a trance, remained motionless and speechless for quite some time.
Matrimandir is dedicated to the Mother. The Mother was born in Paris and her name was Mirra Alfassa. She joined Sri Aurbino in Pondicherry. Sri Aurobindo recognised in her an embodiment of the dynamic aspect of evolutionary, a supreme force, the Mother.
As per Sri Aurbindo's teachings, the Mother symbolizes evolution and consciousness. She is the Universal Mother.
"The Mother is the consciousness and force of the Supreme and far above all she creates. But something of her ways can be seen and felt through her embodiments.."
 As I entered Matrimandir I instantly felt a spiritual pull. Inner chamber of the temple was devoid of any object of worship. A tranquil place which radiated divine aura all around. This is the place to experience consciousness. There is one crystal globe placed in the centre. But I could not see it as some work was going on, that time.
I spent lot of time at Matrimandir just sitting in silence, searching deep within. I did not succeed in search but I did experience inner calm. I experienced stillness of mind, a thoughtless stage, indeed. Kept on meditating. In fact I left temple with a burning desire to get to that stage of divine consciousness. That realization germinated the seed of  spiritual quest in me.
For Mantrimandir I will quote these lines, "A place…for trying to find one's consciousness.
It is like the Force, the central Force of Auroville, the cohesive Force of Auroville".
Auroville is the perfect destination to experience your inner self and feel your spiritual body. Book well in advance for stay in township else you can stay in Puducherry city and visit daily to Auroville. Distance is around 15 km and there are many options of transport. Of course you can use bicycle too.