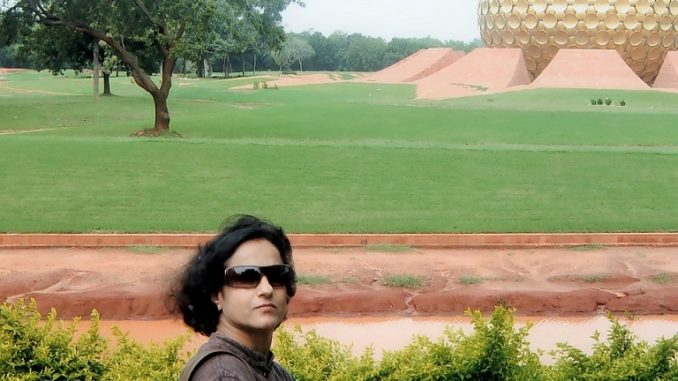 My journey to Auroville was an outward journey as well as my inward journey. I recollect my thoughts how strongly I desired to be a part of Sri Aurbindo's vision in my student life.
When I was doing my Post Graduation in Political Science. I studied political thinkers of the world as part of my curriculum. One of the thinkers that influenced me greatly was Sri Aurbindo from India, my home country. I studied him well beyond my course books. More I delved into Sri Aurbindo's life pattern, more I got inquisitive. Besides being powerful political thinker and a nationalist, I found Sri Aurbindo a great philosopher and spiritual force to reckon. I wanted to visit Sri Aurbindo ashram in Pondicherry (now Puducherry), to gain more knowledge on Sri Aurbindo's philosophy and vision.
Inspite of my intense desire to travel to Pondicherry it did not happen at that time. I just remained busy in academics and then in hectic journalistic career. But I always kept myself updated, on any new development, in regard to Sri Aurbindo ashram. In the meantime, I heard of Auroville township, called as the city of dawn, a living vision of Sri Aurbindo, initiated by Sri Aurbindo Society. And I immediately decided to travel to Auroville and booked my tickets instantly.
Auroville  is a very scenic and serene township set amidst green environs close to sea. Though Auroville comes under Tamil Nadu but has easy access to Puducherry. Besides visiting Sri Aurbindo ashram in Puducherry, I visited Auroville to experience the divine feel in blessed township. And I found each description of Auroville true, in spirit. No vehicular traffic inside, as vehicles are to be parked at gate, though shuttle service is available in Auroville township. No pollution, just Greenery abound, everywhere. Long pathways and walkways lined up with trees and ornamental shrubs, I just loved my walks there. But if you are not into long walks, of course use bicycles. I found cycling the best way to move around inside Auroville and outside township, too, when feel like exploring nearby beaches. Believe me, cycle was the most preferred and most used mode of transport I saw in Auroville.
I spent lot of time in Auroville. Saw film on the making of Auroville, visited library and explored exhibits. In between took tea breaks and then back to reading literature on Auroville.
Auroville township is supported by UNESCO. Auroville township is perceived as one universal town, bringing forth in true words, the Indian philosophy of Vasudhaiva Kutumbakam (world is one family). Beyond the barriers of nationalities, Auroville is a heavenly township with one religion to follow and that is of humanity. A marble urn containing soil of all nations, in park of unity, showcases the ideal of human unity.
I sum up my post on Auroville with a beautiful tribute "A new spirit of oneness will take hold of the human race…"