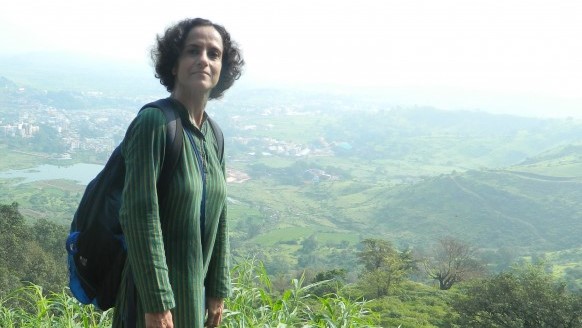 Brahmagiri hills surrounding Trimbakeshwar are undulated scenic hills of Maharastra, India. Brahmagiri  hills offer stunning panorama of  Trimbakeshwar. Other than being blessed with natural beauty, these hills are blessed with divinity too. Sacred river Godavari originates in Brahmagiri hills. Hindu scriptures say that Gautam rishi (saint) worshipped Lord Shiva to bring Godavari in these hills.
Kumbh is held at sacred  Godavari in Trimbakeshwar, Nasik, so trekking to source of river Godavari was significant for me during my Kumbh visit. I was told that trek to hills was tiring and crowded due to on going Kumbh. I needed around  eight hours to trek to Brahmagiri hills, to Godavari source and back to Trimbakeshwar. But I had to do it so without any second thought, I went on to my spiritual trek in Brahmagiri hills at 8am in the morning.
Climb to Brahmagiri hills was mix of defined trail and high steps. Trek was bit exhausting as it had been very hot and humid that day, still  very rewarding. Crossing narrow trails, passing through cliffs, and the fragrance of aromatic plants, all this bounty was enough to keep me fully refreshed. Above that, lots of naughty monkeys out there, bent upon teasing me and ready to grab my camera. My goodness! But I cherished each moment I spent with stout mischievous monkeys.
There was a long queue to the Brahmagiri temple on top. And that was a true test of my patience too. Some devotees got sick due to humidity. After spending four hours in the queue I had my turn to enter temple. I drank holy Godavari water at the source. Water was very clean and tasted sweet. Later, I spent some time exploring Brahmagiri hills. Tasted kandmool fruit(exotic fruit) too.
In afternoon I started my descend at leisurely pace while enjoying blooming Brahmagiri hills. Further climbing down on certain slippery steps was dangerous so I had to be cautious. Once crossed that stretch, I took ginger tea break. Tea was freshly prepared by locals. Though tea cups were very tiny, looked more suited for tea tasting, nonetheless, I enjoyed my few sips of tasty ginger tea.
On the way down, interacted with devotees who were ascending, they looked tired so I acted as moral booster for them. Once came down, I was served hot delicious kichdi (meal of mixed rice and pulse) by volunteers. That khichdi made me energetic again to wander around in beautiful surroundings of Trimbakeshwar, till night.