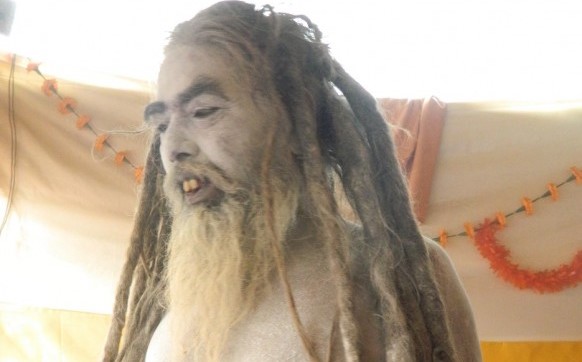 In general, yogi is a term used for a person who practices yoga. But the fact is that yogi word has a deeper meaning attached to it.  Yogi is detached to worldly attractions and yogi is devoted to Lord Shiva, the supreme power of universe as believed by yogi.
I had heard that yogi lives in Himalayas far from society and he remains in meditation there.  He appears in front of public only during Kumbh. So I wandered around in Kumbh to discover yogi and to know about his life pattern.
I gathered information from akharas and ashrams (religious institutions). I found out about two yogis but none was comfortable to reveal his life secret to me. I did not lose hope. Explored further and met Baba Balaknathji. Had hard time convincing him that the life of a mystical yogi needed to be told. I talked about about my spiritual Journeys. My tale of holy Kailash Mansarovar journey in Tibet made him convince that I had highest respect for yogi.
My finding proved correct when yogi Baba Balaknathji told me that other than his Kumbh visit he meditates in Tapovan. Tapovan is a sacred place nestled in Bhagirathi glacier, in higher reaches of Gaumukh, the source of holy Ganges. He left family and home at the tender age of 14 years and went to Himalayas after taking diksha (religious teachings). He lived the life of ascetic saint. He survived eating medicinal grass and drinking bhasmi (ash claimed to have curative powers) mixed in glass of water. Yogi is a tapasvi whose life is fully surrendered to Lord Shiva. Nothing else mattered to him.
When I enquired about the significance of Jata(uncombed strands of hair) and body covered with ash, whether that is to create Lord Shiva's perceived look. I got the logical answer from a saint "well that is the obvious look a yogi gets when he meditates for longer durations. That eventually becomes yogi's way of living and looking. That way he transforms into a mystical yogi like Lord Shiva".