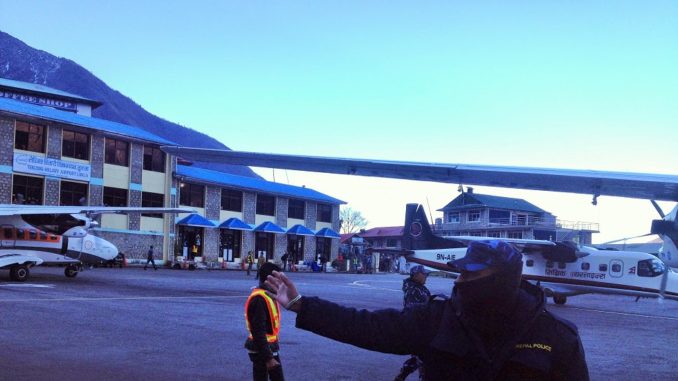 Before I embarked on my final leg of trek from Namche Bazaar to Lukla, I glanced emotionally, for the last time, at mighty Everest.
Passing through small hamlets on the way, trail from Namche Bazaar to Lukla offered awesome scenic views. Panoramic terrace fields to cascading waterfall, I saw nature at its best.
Took lunch break at Phakding and by evening reached Lukla. Room with attached toilet, looked like a luxury. Here I will like to tell you that throughout Everest Base Camp trek, except Phakding  and Lukla, everywhere there were common toilets. Just one or two toilets per floor.
I took bath, freshened  up and came down to dining hall. My group had  planned a dinner party for our porters, guide and his colleagues at Lukla. After dinner, everyone shared personal experience. All enjoyed that evening, immensely.
Day to leave for Kathmandu. Take off at Lukla, one of the dangerous airports of the world, was as interesting as landing. Aircraft went little downhill,  looked like about to disappear in the valley, that left me gasping for a while. Then a smooth lift. And I was relaxed.
At Kathmandu, day for much needed rest. I slept for few hours then got ready and came to waiting hall. Ann from Himalayan Wonders was already there. I shared my wonderful trek experience with her. In evening Himalayan Wonders, hosted a farewell dinner for my group. I had lot of fun with my group along with David and Ann.
David Urmann is co founder of Himalayan Wonders and he was the first person who reassured me on my queries before my trek commenced.
I will like to talk about my trek partners and guide too. Guide Ishwor with a smiling face always supported me with my, sometimes, uneasy trek demands.
My trek partners:
I will make a special mention of Bob. I have used his amazing pics, along with my pics, that has lent beautiful pictorial touch to my 12-part series on Everest Base Camp trek. He has always been a dependable friend.
Alka, my room partner throughout the trek, I had great rapport  with her.
Maree and Mark, very sweet couple from Sydney. They reminded me of my crazy days in Sydney. Felt special connect with Maree.
Rahul was the first and last person I interacted with as we arrived and departed from Kathmandu, together. We interacted a lot.
Bill,  very  pleasant person to talk to.
Pranav and me always comfortable talking to each other.
Mohit and me got along very well.
Priti and me gradually came closer. I like her.
Anand and me had good time. I shared beer with him at farewell dinner. Though, I mixed lot of honey in my beer.
John and me had a bond of respect. We were very comfortable interacting.
By the time I was about to leave Kathmandu, I got fond of my trekking partners. They are my dear friends now.
So that was my  Everest Base Camp trek, full of adventure and thrill. Finally, time to depart from Kathmandu and back to my home in New Delhi. And, savor the  sweet memories of my Everest Base Camp trek for life.