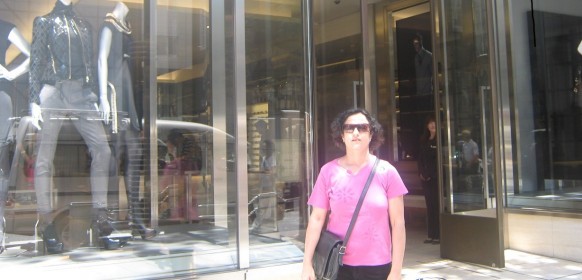 Can you imagine sitting in middle of the road, chatting, resting and sipping coffee? Well, that was what I did in Tokyo, Japan. And that too in Ginza, the upmarket shopping area of Tokyo, famous for luxury brands and flagship stores.  Yes, you heard it right. This all happened when I visited Ginza on weekend. I saw Ginza in new avatar. Pedestrians' Paradise, truly, where no vehicle could encroach upon the area now belonging to pedestrians only.
Pedestrians' Paradise has been a weekly affair regularly happening, every Saturday and Sunday in Ginza, since year 1970. Main shopping street of Ginza remains closed for vehicular traffic from noon till evening. I saw whole area looked like in festive mood during that period. Seating facilities extended by cafés in middle of the road. Anyone could sit there, no compulsion of buying something from that café. Then the gleeful performances which  I immensely liked as I spent my day in Ginza.
Pedestrians' Paradise event has brought cheer to shoppers. They  can do shopping at their pace, relax in between, take refreshments and again continue. Even if not interested in buying, just explore window shopping like I did. I observed families enjoying as if they were on picnic. Toddlers roaming around and parents least worried about their safety, as there was no vehicle around.
I used subway line to reach Ginza market. In Tokyo, Subway term is used for metro train. I got down at Ginza station and strolled through Ginza shopping streets, admiring the architectural beauty of Ginza. Fabulous showrooms with amazing window dressing. My eyes were just not tired looking at the grand showrooms. I stayed till late night in Ginza, even after timing for Pedestrians' Paradise  was over. I had heard a lot about night life in Ginza area so wanted to enjoy that too. And it turned out to be electrifying. After a long day time to catch subway.
Before summing up I am sharing this experience, I entered one store in Ginza, two persons at the counter bowed in front of me and I was overwhelmed. That created instant bond, hence, my shopping turned out to be a memorable experience. More so, when language was a barrier but their willingness to help me out, made things easy. This helping attitude I witnessed at all places in Tokyo. I still remember that with humility.