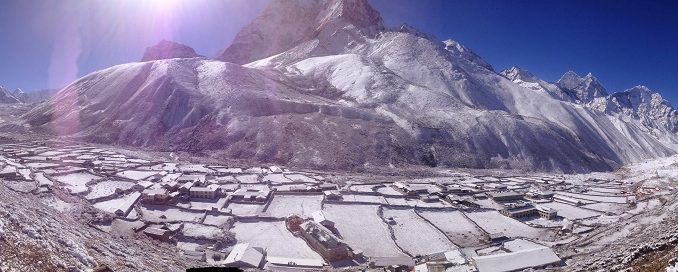 After previous day's adventures and misadventures, I woke up to a beautiful sunny morning, that cheered me and nourished my senses.  Gigantic Mt Ama Dablam  peak, towering over Dingboche, looked so grand shining in bright sun.
Dingboche  is blessed with stunning landscape. At an elevation of 14,435 ft, Dingboche is the second high altitude halt after Namche, where extra day of rest is needed for acclimatization. So, that was a day for total relaxation. And pamper my palate with delicious meals whole day round, including one meal of dal bhat, a local dish which  was a must for me. Throughout on Everest Base Camp route, lot of veg varieties are available to choose from, like fried rice, noodles, pizza. And different items for breakfast like pancakes, puddings and much more. Of course there are ample items in non veg category too, but me being vegetarian, had no interest in knowing non vegetarian items.
Trekking on a much higher altitude than Namche Bazaar, was taking its toll on few trekkers. It happened even after they had been taking high altitude medicine Diamox, regularly. I had been interacting with one group of four trekkers. And I found out that two trekkers stayed back in Namche Bazaar due to acute mountain sickness. Then, there was one other group of three trekkers who were staying at Dingboche. Later, two of them were picked up by helicopter  for medical emergency.
I was not taking Diamox  as during my last year's high altitude trek in Tibet, I was fine without taking Diamox. Except me, everyone in my team was already on Diamox. Even then Alka, John, Mohit  and Mark got unwell. Mohit, Alka and Mark had been recovering, but John had one more medical problem to tackle and that was of side effects caused by medicines he had been taking. Sometimes he looked very exhausted. I had done lot of research earlier, as had been traveling through isolated stretches, in absence of medical facilities. So, I know a lot about various medical conditions and precautions to be taken. Thought I must suggest John and rest was up to him to follow or not. But he trusted me and did follow my instructions.
After having lunch I ventured out to explore little bit surrounding areas. I did not want to exert much keeping in view the big day approaching near and I needed to conserve my energy. While roaming around I noticed solar systems and satellite connections  installed. And wondered how efficiently technology was being used at such a remote place. No doubt trekkers have to pay heavy charges for usage. But getting access to important  things like hot bathing water, battery charging facility, Wi Fi connection, are very well appreciated.
Being full moon night during my stay, I discovered night view of Dingboche even more captivating and more intriguing. It seemed as if full moon graced Ama Dablam peak with its shimmering milky rays. A picture perfect image!
MY Adventures continue…