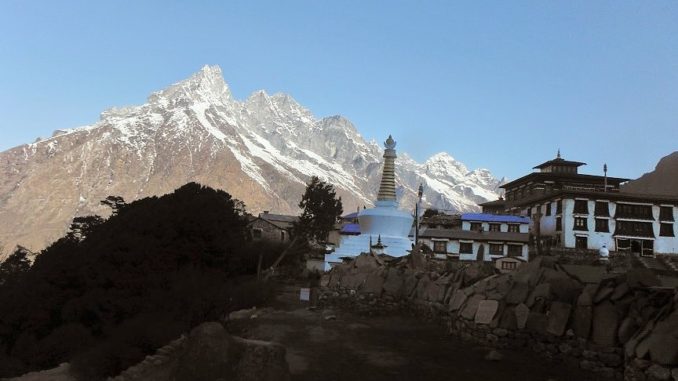 Fully energized after a day of acclimatisation, now it was time to embark on a spiritual journey to Tengboche  monastery. And the next halting point, en route Everest Base Camp. Tengboche is also the midway point to Everest Base Camp.
Trekking trail from Namche Bazaar to Tengboche, though steep to begin with, but well rewarded with captivating views of  Himalayan peaks including Everest, Nuptse, Lhotse and Ama Dablam.  While trekking I fondly kept looking at Everest, till the view was out of my sight. Then after other mighty peaks gave me company, pampered me thoroughly and kept me smiling.
Entire route to Tengboche offered great vistas. Trekking through forest pass and flashy views of beautiful Mt Ama Dablam peak towering over, what a treat to eyes!
Then the sight of monastery and I had the hint that might be Tengboche monastery. I sat outside and waited for team to arrive. After sometime I saw my trekking partner Bob coming, I got up and went inside the monastery.
At an altitude of 12,687 ft, Tengboche is a small village, known for the famous Buddhist  monastery. Tenzing  Norgay Sherpa, first man to summit Mount Everest with Sir Edmund Hillary, was once sent to Tengboche Monastery to be a monk.
Tengboche monastery is situated on a hill, at the confluence of  Dudh Kosi and Imja Khola river, offering panorama of Himalayan peaks all around.  Spellbound  at the grandeur of Monastery, I spent whole evening inside the monastery. I was enthralled by the divine chants of mantras and spiritual notes played by monks on musical instruments. There I was in a state of ecstasy, without a trace of tiredness, strenuous trek may have caused. Many climbers offer prayers there and seek the blessings for safe climb.
Whole atmosphere around monastery was of mystic. So calm yet full of energy. One side monks delve deep into religious vigour, other side young monks playing football to keep up with physical fitness. Inspiring!
In mountainous areas weather remains very unpredictable. Day was sunny but by evening it got cloudy and started raining in Tengboche. Temperature dropped, I felt the chill so after having dinner, I immediately went to my room, snuggled myself in warm layers of blanket and sleeping bag  Me being a spiritual person, relished my stay at Tengboche monastery.
MY Adventures continue….