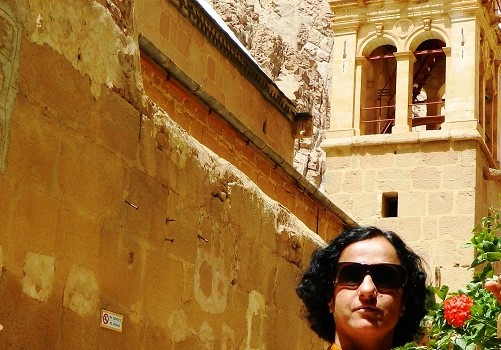 Captivating Sinai mountains had more reason to pull my senses, besides offering unparalleled scenic beauty, Sinai bewitched me with its spiritual beauty, too.
Sinai is synonymous with Mt Sinai. One of the highest mountains in Sinai is holy Mt Sinai, also known as the Biblical Mount Sinai where great Moses received Ten Commandments.
Monastery of St Katherine(also known as St Catherine) is the site where the miracle of Burning Bush happened, Moses had a conversation with God and climbed Mt Sinai. As I had the idea that Sacred Burning Bush could be seen in monastery compound, I enquired the location and got there, touched sacred Bush, stood still and felt something  within me as if myself conversing with God.  It was a proud moment for me to be there, capture the sacred image of Burning Bush and share with all.
Monastery of St Katherine is nestled in the valley surrounded by high Sinai mountains and holy Mt Sinai stands tall in the backdrop. St Katherine's Monastery is named after saint Katherine, virgin martyr and one of the most revered Christian saints. Monastery of St Katherine is a World Heritage Site and believed to be world's oldest functioning monastery.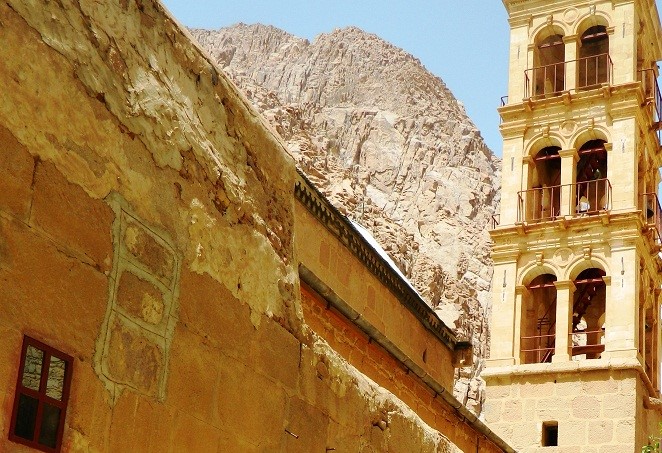 There were many transport options available to reach monastery but I preferred to walk. Though temperature was soaring  that day which made my walk little uncomfortable, still I wanted to explore the area around monastery and breathe in spiritual air flowing in the sacred valley. And I was not disappointed, had stunning views of Mt Sinai, came across rare plant species that had medicinal properties and smelled so exotic. I got to see few beautiful butterflies, which were found in St Katherine region, only. Though olive plants were everywhere, even in wild.
So, that was my day dedicated to the spiritual Sinai and I, indeed, experienced good vibes.