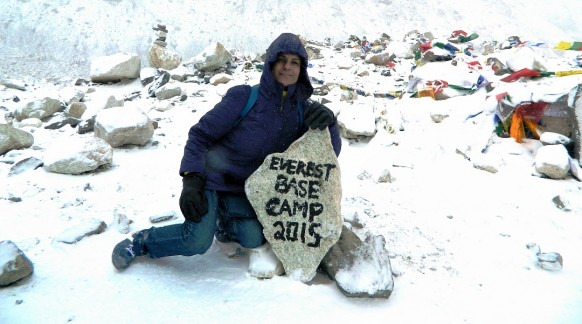 Today, on 25 July 2015, it has been three months since deadly earthquake struck Nepal. That triggered avalanche in Everest region and left a trail of devastation all around. On this day, I pay my homage to earthquake victims. And, I pay my gratitude to that invisible force which kept me alive. As earlier I had planned my trip for April last week, coinciding with my birthday on 25th April, but preponed later. Thus, returned home on 4 April 2015 after my adventurous trek to Everest Base Camp successfully accomplished.
I have a firm belief  that perished will emerge stronger and Everest will be mightier than before.  From Today, I am carrying series My Adventures based on my Everest Base Camp trek.
Mighty Mt Everest and Everest Base Camp trek fascinate every intrepid traveler and I was one of that league. Aspiring and ever ready for the challenge. I had been on many mountainous treks, earlier. I had been on high altitude glacial treks also. So no major doubts in my mind, still I had to be assured of my success before embarking on my trek. Once I took up any challenge I always completed that. For me, it was better to analytically calculate my strengths rather than regretting later. And, my decision was in affirmative. No questions raised by family as they knew I won't stop. My mother was very worried, and she was worried last year, too, when I traveled to Tibet. Whenever I am on something adventurous she gets upset and troubles God a lot by praying for my safety.
Next step was to finalize travel agency who had the expertise in organizing Everest Base Camp treks. I decided on Himalayan Wonders. They had office in Kathmandu Nepal and Nagpur India. I was interacting with their Nagpur office.
As last year I had been on high altitude trek so I knew the packing requirements. Except for two additions, the sleeping bag compatible with freezing temperature and crampons for icy walk. All things in place and I boarded my Indigo flight to Kathmandu.
Once arrived in Kathmandu, I settled down in hotel arranged by the agency. I had afternoon at my disposal but no plans to go anywhere as I had visited Kathmandu twice earlier. Had explored the city well so I just delved into hotel library books.
Evening time was briefing time on trek specifics. I was part of a group of twelve trekkers: Me, Pranav Puliani, Anand Managoli, Priti Jayaraman, Rahul Nandal, Alka Kedia, Mohit Mansharamani from India; Maree Symonds, Mark Symonds, John Anderson from Australia; Bob Jonson from USA and Bill Nesbit from UK.
Next day was early day out, checked out at 4am with packed breakfast, got to catch Lukla flight.
My Adventures continue…