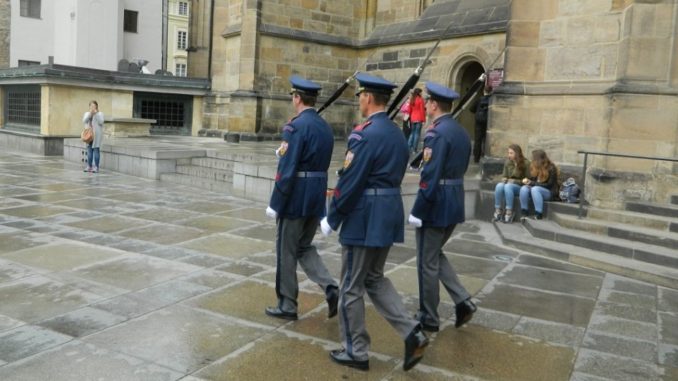 When you plan to explore Prague, the capital of Czech Republic, do it my way. Just walk the city. There is no better way to feel the pulse of Prague.
Prague is a walkable city. Important historical and heritage areas, like Prague Castle, Charles Bridge and Old Town Square, all are meant for walking only. So, be ready for long walks in Prague and in case you are not a habitual walker like me, then start walking practice before you plan to visit Prague. In the meantime, imagine yourself walking and exploring Prague, along with me, while reading this post.
My starting point was Castle area. Prague Castle is the largest ancient castle in the world, situated on a hill. It had been the seat of Czech rulers, earlier, and now the seat of Czech Republic president. Prague Castle is a world heritage site. Castle area consists of many important historical monuments like Old Royal Palace, St Vitus Cathedral, St George Basilica.
Two guards stand on Castle entrance. Inside castle courtyard  I watched change of guards. Presently, this is more of a ceremonious gesture. Then I walked through Royal Gardens and continued my walk to St George Square, got awesome views from square, so a short clicking break.
Then, set my foot on Segway for a little fun, and took part  in a music band, did some foot tapping on a melodious tune. Also, I happened to join a children's walking tour around St Vitus's Cathedral which I enjoyed immensely, that way I got a glimpse of my childhood and recalled my childhood memories.
St Vitus Cathedral is a monumental building which served as a coronation church for rulers in ancient times. Inside, there is splendid Wenceslas Chapel adorned with semi precious stones and  amazing gothic murals.
Walk continues, covering  Old Royal Palace and Golden Lane, a picturesque cobbled lane with small colourful houses and few cafés. Now, time for a much deserved coffee break and, of course, toilet break.
PRAGUE WALK continues…