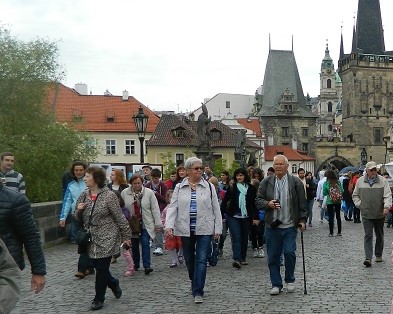 In previous post, I walked Prague Castle area. For me that was the soul of Prague. In this post I will walk the romantic Charles Bridge and Old Town Square, the heart of Prague.
Charles Bridge is the oldest bridge of Prague, the capital of Czech Republic, which connects Prague Castle with Old Town. Earlier, this bridge was used for vehicular movement also, now for the last many years, Charles Bridge remains pedestrians only bridge. Constructed over Vltava river, Charles Bridge is a magnificent structure, adorned with many statues. Offering great vistas of Prague, Charles Bridge is a walkers paradise, hugely popular among tourists and locals, as well.
The day I happened to walk on Charles Bridge, it was all around lively atmosphere, with plenty of handicraft stalls, artists sketching portraits and musicians entertaining crowds, above that, pleasant weather, it proved to be an excellent day for me.
Old Town Square is the place where Prague pulsates and I felt the rhythm of it. When I walked around Old Town Square, I found it fun filled with lot of eateries, entertainment and shopping options, besides, being historical. Imposing Tyn Cathedral, dominating church of St Nicholas and world famous Astronomical Clock, all add to the glory of Old Town Square.
Standing in front of the Astronomical Clock, happened to be a wow moment for me. Every hour, it displays  a spectacle of Apostles greeting the city.  Other than its unparalleled beauty, this ancient Clock  is a technological wonder which has been faultlessly functioning for centuries and tells even the position of celestial bodies apart from time, month and year. Gazing at the Astronomical Clock I bid goodbye to my historical walking  of Prague. I hope you, too, enjoyed walking  with me.