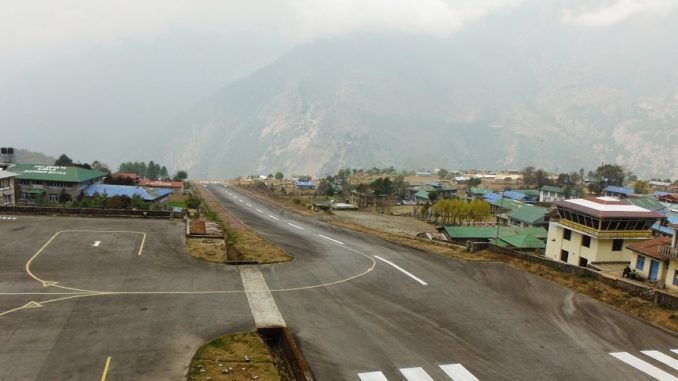 Day to land at one of the world's most dangerous airports, Lukla. Perched high on a mountain slope, that tiny airport strip gave me anxious moments while landing. But frankly speaking, landing was quite smooth.
Lukla is the place most trekkers embark on Mt Everest and Everest Base Camp trek, thus, called the Gateway to Everest.
Lukla airport handles dozens of flights daily. Only small aircrafts and helicopters fly to Lukla and weather plays very important role. I was hearing the news of flights being cancelled and sometime if bad weather persisted. Wait could stretch upto a week. My flight from Kathmandu was delayed by over four hours. Got hungry so munched snacks at airport. Me with seven members of my group; Maree, Bob, Mark, Bill, Alka, Rahul and Anand, were to fly together and  four members; John, Priti, Pranav and Mohit, were to fly later in different aircraft. Kathmandu to Lukla is short duration flight, just of 30min. I reached Lukla at noon.
At an altitude of around 9,200 ft, Lukla is a bustling small village. Tour guide Ishwar Bhantana directed everyone to a restaurant and asked to order lunch. In the meantime rest of four members were supposed to join us. Lunch ordered and eaten but no sign of them arriving. Guide informed  that  due to worsening weather their flight got cancelled. So, no further wait and we ought to start trekking for Phakding, first night halt of Everest Base Camp trek.
Baggage was carried by porters. I carried my backpack which included essentials like wind jacket, rain coat, medicines, light snacks, water and my camera. Later, weather changed and it started raining intermittently. All the time I kept putting on and off my rain coat. On the way, guide again got the news that four members had managed helicopter ride to Lukla. He immediately went back to airport to bring them along. He instructed me and other trekkers to follow his colleagues, Pemba and Lama, till Phakding.
Trekking route was well defined and not very tiring but path got slippery because of rain and I had to be cautious while moving. Could not fully enjoy the scenic views of Dudh Kosi river as all looked blurred in rain. By the time reached Phakding, it was heavy pouring with thunderous sound.
I was twin sharing room with my trekking partner Alka. She was to be my room partner for the entire duration of trek. After getting into my night attire, I came to dinning hall which was very cosy. After serving meal, lodge people arranged to screen a documentary film on Everest Base Camp trek. In the  meantime guide entered dining room along with four members, wearing head torches and totally wet. They had to trek in dark with heavy pour. It had been really hard for them. Everyone present in dinning hall was delighted to see them. Now complete team was there to trek next morning to Namche Bazaar.
MY Adventures continue…..