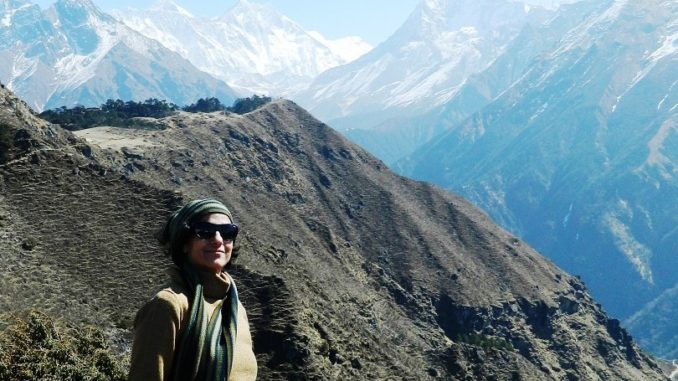 Night spent in dreaming about Everest. The feeling of having me closer to Everest, made me ecstatic. In next few hours I was about to get the majestic view of Mt Everest at Everest View Point.
Everest View Point, at an elevation of 13,000 ft, is half day trek from Namche Bazaar. I told guide that I wanted to reach there at the earliest and explore more. I did not need any rest, wanted to keep moving and I will see him at Everest View Point. He was bit worried to let me go solo ahead of group but I assured him I had done many solo treks. So he need not worry that I may get lost. Guide had been observing me trekking for the last two days. He knew very well that I may move ahead but I was a responsible trekker and experienced too, so he agreed.
Route to Everest View Point was very scenic. Green pastures with imposing Himalayan peaks in backdrop, offered great views. And then arrived that much awaited moment. Me gazing at awesome Everest, standing tall along with other gigantic peaks including Ama Dablam and Lhotse. I squatted there and remained in a meditating posture until I found my guide patting me. I came out of my state of oblivion and joined group there, but my eyes fixed on Everest.
Everyone was planning to have rest and something to eat, drink, so proceeded to a restaurant, nearby. Not much into resting, eating, I thought of  having more of Everest. I had heard about Guinness Record holder Hotel Everest View. Granted as highest placed hotel in the world, a luxury hotel constructed by Japanese, offers stunning view of Everest. Again I talked to guide expressing my desire to visit that place. Guide agreed and he asked his colleague to accompany me. We paced fast to the hotel, I absolutely enjoyed my extra dose of Everest. Hotel had private helipad for charter flights. As I was passing through that area, I glanced at shining helicopter. Pilot noticed and smiled saying, "ready to fly the bird". I smiled back and thought if not fly at least get clicked with beautiful bird he was referring to.
While ascending to Everest Base Camp, one extra day is spent in Namche Bazaar. At an elevation of 11,283 ft, Namche Bazaar is  the place to  get acclimatized in high altitude. And trek to Everest View Point is a part of acclimatization. Namche Bazaar has pretty good market. Everything a trekker may need can be purchased from here.
Later, visited Sherpa museum in Namche Bazaar. Museum has Mt Everest Documentation Center containing rare photo collections of Sherpa climbers. Collection includes Tenzing Norgay Sherpa, the legendary climber, first to climb Everest. And, Ang Rita Sherpa, first to climb Everest ten times without artificial oxygen. Amazing!
So that was my memorable day in Namche Bazaar. Lodge was great, food was great and the ambience was superb.
MY Adventures continue…