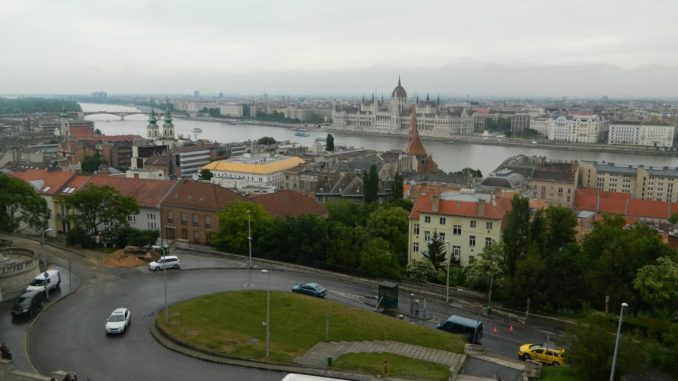 Recently, I was touring East Europe. When I reached Hungarian capital Budapest, and set to admire its stunningly beautiful cityscape, I was in for a surprise. A myth I carried till then, that Budapest is one word and one sprawling city, was just an illusion.
In fact, Budapest gets its name by combining two words and two prominent locations of the city ie Buda & Pest. Straddling across Danube river, Buda is the hilly side and Pest is the flat side of Budapest.  Both sides have distinct look and distinct feel. Where Buda is serene, Pest is boisterous. I would not be exaggerating if I say these are two different cities, altogether, but united by the historical Chain Bridge. Or I may say, Buda & Pest are two  bodies with one soul.
Usually, with my journalistic aptitude, I remain well informed about the destinations I travel. Coincidentally, my Budapest trip was randomly selected, and there I had this suspense. Frankly speaking, I quite enjoyed my surprise element, have decided to indulge more often in unplanned trips to have a suspense in waiting.
Budapest is a haven for explorers. Just a look around Danube river and I discovered the wealth of illustrious monuments. To get the best feel of heritage buildings and modern architecture, I explored Budapest three ways; cruiseway, driveway and walkway. Of course, walking remains my preferred choice to move around and explore, but in Budapest, I found Danube cruise was the best way to capture the beauty of  Buda & Pest, as Budapest, in true sense, thrives on  both sides of Danube river.
Budapest panorama, consisting of Buda Castle district and Danube embankments, is listed as the World Heritage Site. Buda side Danube embankments include Castle of Buda, Statue of Liberty, Citadel, Baroque churches and Turkish Baths. Pest side Danube embankments include Parliament building, Academy of Sciences, Gresham Palace and  Roosevelt Square.
I found Heroes' Square  the most impressive and tallest square of Budapest, Millennium monument stands in the middle, with Archiangel Gabriel holding the cross of Christianity and the Hungarian Crown. Ornate horseback statues of the seven Hungarian leaders occupy the grand pedestal.
Another imposing monument in Budapest is Statue of Liberty. But, one monument that has, now, entered into my list of favorites, is famous Chain Bridge which has appeared in many movies. Even the climax scene of Bollywood blockbuster movie 'Hum Dil De Chuke Sanam' was filmed here, and not in Italy as claimed in the movie.
BUDAPEST TALE Continues…..